ADR DELUXE


Vertically opening skylights

Skylights from the ADR series are the jewel in the crown of Basso Skylights productions and represent the top of the market for opening skylights. They guarantee optimal illumination for the environment and favour constant ventilation against any excess of smoke, heat, or odour.
ADVANTAGES
The innovative vertical opening system provides free ventilation from all 4 sides, which equals larger surface aeration and better wind resistance.
The lateral overhang of the cover allows the user to open the skylight even in the event of rain.
The solid steel and aluminium structure was designed and developed by Basso Skylights, to ensure maximum strength.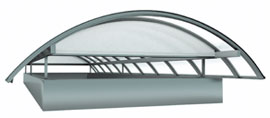 THE NEW ADR-DELUXE SYSTEM
For commercial applications

ADR-DELUXE uses the latest technology
to ensure esthetically pleasing lines and installation
in various environments.

The ADR-DELUXE has a vertically lifted cover that is secured to retractable tracks which are hidden by the base of the skylight.

ADR-DELUXE provides excellent lighting and constant ventilation for various environments and also protects against excessive smoke, heat, moisture and odour.