ADR COMBO


Vertically opening skylights

Skylights from the ADR series are the jewel in the crown of Basso Skylights productions and represent the top of the market for opening skylights. They guarantee optimal illumination for the environment and favour constant ventilation against any excess of smoke, heat, or odour.
TECHNICAL TABLE:
GREATER VENTILATION AREA
GREATER WIND RESISTANCE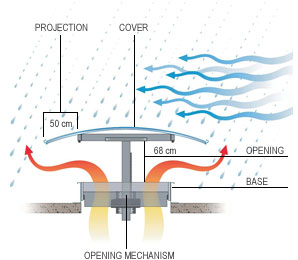 THE BEST SKYLIGHTS
FOR VENTILATION ENVIRONMENTS
Thanks to its particular opening system and working
design, the ADR model offers many more advantages
than traditional systems, those with lateral or
'protruding' opening (shed skylights).
The vertical raising of the cover, freeing the vent on all 4 sides, ensures a greater ventilation area and better wind resistance. The lateral projection, compared to the base vent, makes it possible to open the ventilator even when raining. A solid structure formed by sections in steel and aluminium, designed and planned by Basso Skylights, guarantee maximum strength.