EXS


Smoke and heat vent

Used daily EXS works as an opening skylight for the ventilation of industrial and commercial environments, certified according to regulation EN12101-2 as required by CE marking.
It is the most advanced fruit of Basso Skylights research, being a technologically innovative product as well as an extra safety measure for the working environment.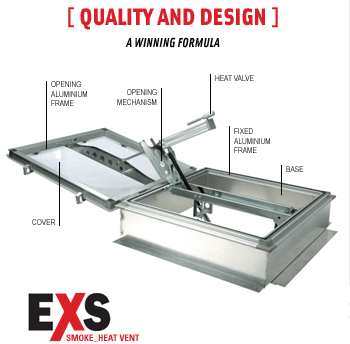 EASY AIR
PATENTED DAILY VENTILATION
AN INNOVATIVE OPENING MECHANISM
EASY AIR is an innovative opening mechanism with a single
electrical or pneumatic actuator and a double leverage system.
This optional component means that the vent can be used
as a normal opening skylight.
A real change from traditional opening mechanisms.

REGULATION EN 12101 - 2